Dear Parents/Guardians/Teachers/TA:
Please note the schedule for the next weeks: We will be off next Sunday (11/17), have school on 11/24, and off again on 12/1.
Alexander Road will be closed from Nov. 6 to April 20, 2020 as per the link below, please use alternative route if this closure impact your commute. http://www.dailyprincetonian.com/article/2019/09/alexander-road-closes-for-nearly-six-months-starting-nov-6
Congratulations to all the Drawing Contest Winners.   We have over 80 drawings this year and competition is fierce.  All drawings are amazing and showed great efforts in the creation of master pieces for the year of rat.  Please see the winners list announced by the Culture Director.
* To encourage our students to practice their Chinese language and culture skills, and participate in the competitions, here's PCLS Reward Program applied to all our internal (PCLS) contests: 

– Participants will receive ONE coupon for
 coupon day gift exchange
.
– Winners will receive one additional coupon (i.e. TWO coupons) if wins a TOP Three for each competition.
** The only exception is writing competition.  No coupon for the participants since ALL PCLS students will participate writing contest during their class time.  Honorable mention will receive ONE coupon while Top Three Winners receive TWO coupons
. 
Messages from the Academic Director, Molly Yang
Messages from the Culture Director, Ya-Ping Su
Announcing Drawing Contest Winners by age group.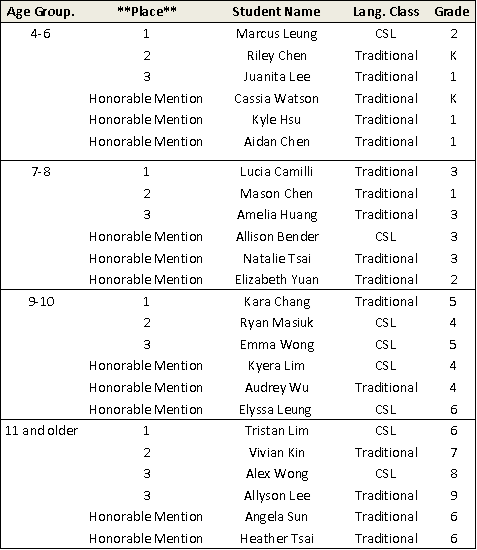 4 Food Vendors this week
* 1:30 LinGong (林宮)various food items & seafood soup
* 2:00 Stella's bubble tea,Taro cake (芋頭糕), sweet soup (紅豆湯/銀耳湯), Mochi (麻糬) and Sushi 壽司
* 3:00-4:30 NuRo Beef Noodle Soup (正中牛肉麵): Please pick up your order at the designated time.
* 2:00 台灣小吃 (Taiwanese snack and bento box)
Please support our vendors, as a portion of their proceeds are given back to the school.