MESSAGES FROM PRINCIPAL
Our annual lunar new year celebration is just around the corner!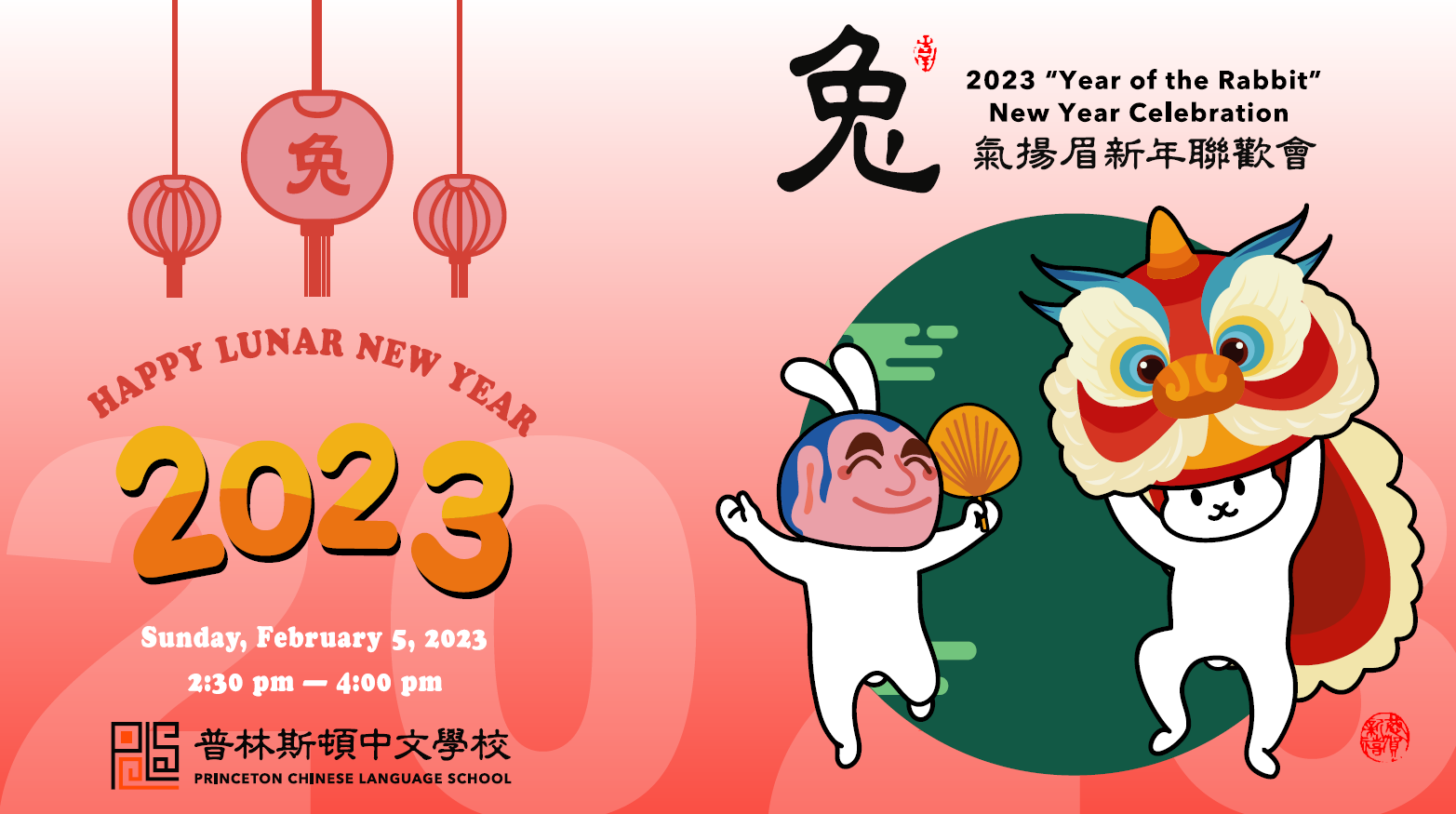 Designed by: Laurens Lin
LNY Raffle Ticket Presale – Last chance to get your discounted raffle ticket!
Discounted raffle tickets will be available for purchase this Sunday (1/29).  On 2/5, it will be the regular price.  Cash only.  For a list of this year's raffle prizes, please click on this link. Good luck!
Note:  Please remember to bring the raffle tickets you purchased on 02/05 to enter the raffle drawing! We will NOT be able to reissue raffle tickets
# of tickets

Price

Pre-sale

On 2/5

$10

12

10

$20

25

22
Upcoming Events
1/29

LNY rehearsal #1 / Raffle ticket pre-sale

2/5

LNY rehearsal #2 (12:30pm)

Lunar New Year celebration (2:30pm)

2/19

Chinese Typing Contest (online)
僑委會海外青年英語服務營 English Teaching Volunteer Service Program for Overseas Youth
活動時間於2023年7月8日至8月3日止. 有興趣以及符合以下報名資格者, 請聯繫校 principal@pcls.org 索取詳細報名資料.
申請資格: 報名者需持有僑委會i僑卡,且報名時已就讀11年級以上 且於2023年11月30日前年滿17足歲,但未滿25足歲(以護照所載年齡為準),現居英語系國家,並能以簡單中文溝通者。
報名時間:即日起至2023年4月28日止。
The Taiwan Overseas Community Affairs Council (OCAC) is offering an English Teaching Volunteer Service Program for overseas youth. The program takes place between July 8th to August 3rd, 2023.  If your child meets the eligibility requirement below and is interested in applying, please email principal@pcls for additional details.
Eligibility
1. Applicants should hold an I-Compatriot Card when applying for the program.
2. Applicants must be in the 11th grade or above at the time of application and between the ages of 17 and 25 (as shown on passport) by November 30, 2023 and live in an English speaking country.   Applicants must have basic communication skills in Mandarin.
Application Deadline – by April 28, 2023
MESSAGES FROM ACADEMIC DIRECTOR 
ANJCS Singing Contest 紐澤西中文學校協會唱歌比賽
2023 ANJCS Singing Contest will be held at Edison Chinese School 12 pm on March 4, 2023. Please find more details in the attachment. If your child(ren) is interested, please contact me (academic@pcls.org) by Feb 4, 2023.
Registration Deadline:  2/11/2023 11PM
Contest Location:  John Adams Middle School (1081 New Dover Road Edison NJ 08820)
MESSAGES FROM CULTURE DIRECTOR
成人易經課
報名表: https://tinyurl.com/jden69rk
有任何問題, 請連繫文化主任 culture@pcls.org
PTA UPDATES
Parent Duty
To check or change your parent duty sign ups, please click this SignupGenius link.  Should you have any questions on your signup, please reach out to Suet Horhota, PCLS PTA Lead, while at school or at PTA@pcls.org.
Additional ways of support
There are 2 ways to continue supporting our community through our partnership with:
RaiseRight (formerly ShopWithScrip)

AmazonSmile (will be discontinued in Feb 20, 2023)
Please click on this link to get more info.  Thank you for your continued support and Happy Shopping!
VENDOR UPDATES
Join us at LINE group: "PCLS – Food and Vendors 普林斯頓中文學校美食團" to get the latest information about food ordering and delivery.  http://line.me/ti/g/uefDIBC_L5  (click the link to join)
美食團版規和注意事項(Vendor Info and Group Order Rules) :  https://tinyurl.com/bdfrdasa
THIS WEEK
Nuro Beef Soup 正中台灣牛肉麵 2023/01/29 Delivery  – Closed
Spicy Beef Soup 川味紅燒牛肉湯 $15
Tomato Beef Soup (Non-spicy) 蕃茄牛肉湯 $15
不含麺, 附酸菜
Order by 1/26/2023 (Thur) 10:00 pm
Pickup on 1/29/2023 (Sun)
1:30 – 2:00 pm at 美東超市 parking lot (10 Schalks Crossing Rd, Plainsboro Township, NJ 08536)
2:20 – 3:00 pm at  Princeton Day School parking lot next to the main entrance (650 Great Rd, Princeton, NJ 08540)
Cash upon pickup. 只收現金.. Call or Text Ken at 646-286-9288 for questions
Next Week
阿扁美食團 02/05/2023(Sun)Delivery
https://group.bienkitchen.com/
Order by 2/1/2023 (Wed)10:00 pm
Pickup on 2/5/2023 (Sun)5:15pm ~ 5:45pm at Plainsboro 美東超巿 parking lot at CVS end (10 Schalks Crossing Rd Unit 100C, Plainsboro Township, NJ 08536)
Every order will pay for a 12% handling fee + $5 toll charge when "Princeton" location is selected.
When placing the order, please leave a note of '普林斯頓中文學校' or 'Princeton chinese Language school' at comment field for reference
Contact:text or call Mr. Lin at 347-827-7226
Payment: Venmo: @Leyhualin 5615709497 (頭像開船的就是了!)
Zelle Quick Pay, 347-827-7226 (JS import  BOA), or Cash
UPCOMING
David Kao ZongZi 粽子02/07 & 02/08/2023 Delivery
Order link – Closed
Will stop accepting orders when the total amount reaches $1,200.
Pick up time: 2/07/2023 (Tue) and 2/08/2023 (Wed) 5:10 pm ~ 5:30 pm.
Pick up location: Parking lot behind CVS, 4 Shalks Crossing Rd, Plainsboro Township, NJ 08536
Payment: Zelle:  718-666-0177 (David Kao) or Venmo: @Amy_kao (Please do not leave any note on payment)
Contact: Eric at mydeareric@gmail.com
NOTE:  * All Zongzi contain peanuts. No peanuts version upon request. However, no-peanuts version is prepared with other zongzi and may have contact with peanuts. Not recommended for those who are allergic to peanuts.
* Vegetarian version upon request.
Spread the word for Princeton Chinese Language School.  Invite your friends to visit our school and join our community!!
Veronica Chen, 

校長 Principal