Dear Parents/Guardians/Teachers/TA:  
Hope you have a great week. This Sunday, please listen for the whistles signaling the start of the Fire Drill  (around 3:00). Staff will guide classes in evacuating from the building during the designated language class time.  This will require everyone, including parents/guardians to evacuate the building. As a reminder, language class is 2:30-4:15, with a 5 minute break in between.  Culture class is 4:20-5:00. Particularly for new and younger students, it is helpful if parents can walk their children from the language class to the culture class at 4:15.  Also, if your child needs to leave school during the class, please inform the teacher or TA.
On NEXT Sunday, 9/29, PCLS will host the 14th Annual Confucius Memorial Ceremony in New Jersey (See attached poster). Please come and ask you friends to join us for this special ceremony. September 28th is the birthday of Confucius and also the Teacher's Day in Taiwan. Let's celebrate the birthday of the greatest educator in the world history. On next Sunday, extra parking space is available on Ice-skate ring and Lacrosse parking lot behind school building.  Traffic sign of "Extra Parking" will be set up for direction.  More details will be announced in the next week's newsletter.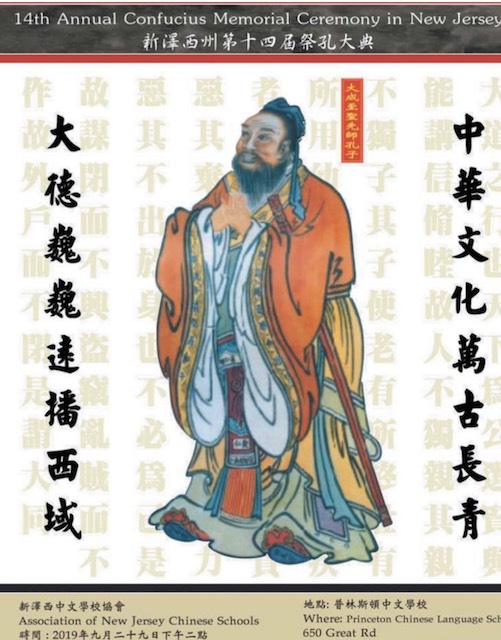 Messages from the Academic Director
During the first few weeks of Chinese school, parents may help their younger children with homework. If parents want to switch their children to a different class, please talk to the Academic Director first.  The last day for language class switching is this Sunday (9/22).
We open 4 mini Zhuyin lessons for kids (T1-T4) to review Zhuyin. The first lesson starts this Sunday (1:50-2:20 pm). If you are interested in enrolling, please go to the below link to fill out the form by 12:00 am tonight. Please pay $20/per student to Academic Director. The participant's parent should receive email regarding of the room# from teachers. We divide into two groups based on age/level.
Messages from the Culture Director
If your child is enrolled in a culture class that requires a $20 material fee (Chinese Knotting, Chinese Brush painting, Crafts), please bring an envelope labeled with your child's name with $20 check or cash this week if you haven't done so.
If your child is in Basketball, Taekwando, Yo-Yo or Dance, please sign a liability agreement prior to the start of the class activity this week and give it to the classroom TA. Classroom TA has printed copies. Students without sign liability agreement will not be able to participate in the class.

Parents participating or interested in adult activities, please contact class coordinators listed below.
3 Food Vendors this week

* 2:00 Stella's bubble tea, sweet soup (紅豆湯/銀耳湯), Mochi (麻糬)
* 2:00 台灣小吃 (Taiwanese snack and bento box)

* 3:00-4:30  
Please pick up your pre-order and pay cash by 4:30.